For production of thermal rolls our company uses the highest quality paper, which does not contain bisphenol A and has got minimum 5 years print vasibility guarantee. This paper provides us with long-term and failure-free work of printers. Our products are used in nearly all devices, which use paper rolls like cash registers, faxes, payment terminals, ATM, barcode printers, usherettes, lottery terminals, medical, diagnostic and laboratory equipment.
We can offer you production of the rolls in different sizes, starting from the width from 19 mm and length up to 1000 meters. We wind the paper on the cores of the diameter from 8 mm to 100 mm. For the production of rolls we use dust-free, special paper with high whiteness, with the density from 48gr/m2 to 170 gr/m2, which guarantees 25 years of print visibility.
We can also offer you products with enhanced parameters with the resistance to external factors ( oils, alcohol, plasticizers, ultraviolet radiation and humidity) and the thermal paper without bisphenol free and phenol free paper.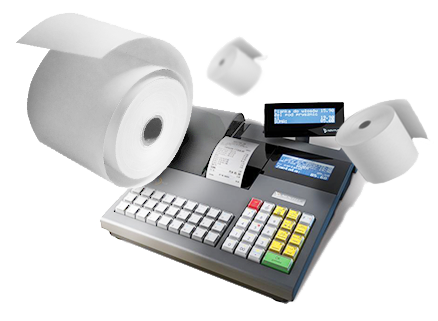 The rolls are packed in a heat-shrinkable foil and cardboard boxes. An individual approach to each customer enables us to personalize the labels according to their specific requirements. Detailed information you can received contacting us by phone, sending an e-mail or using the form which is placed below.